BUYING PROPERTY

Do you know the difference between a Buyer's Agent & a Seller's Agent?
A Buyer's Agent is a Real Estate Agent that represents the person interested in purchasing property (the Buyer).
A Seller's Agent is an agent who represents the person selling the property (the Seller). If you are considering buying property in Lake Havasu City YOU NEED AN AGENT TO REPRESENT YOU! You need a Buyer's Agent. You need me!
Don't search real estate websites looking for property. Let me know what you are looking for an I will providing you with real estate listings that specifically met YOUR criteria. This information will be generated directly from the Lake Havasu City MLS. It will be the most accurate information available!

Don't receive an automatic referral to an agent you don't know. Other real estate websites offer resources for agents and will assign you one. You are here on my website and should find everything you need to know about me. make an informed decision and call me!

Don't waste time drive around town looking for property and calling agents of for sale signs. If you do you will be contacting the agent that represents the person selling the property! You don't need an agent who is working for the seller. You need an agent to represent you, the buyer.
Last but not least, please don't have several different agents show you property. Choose an agent you like and stick with that person. You will save yourself a lot of time and trouble.

If you are serious about buying property in Lake Havasu City you owe it to yourself to call me to represent you as your Buyer's Agent. You will not be sorry!

Purchasing Property:

As your Lake Havasu REALTOR® I will work with you to help you determine exactly what you are looking for and what your budget is. If you will be obtaining a mortgage for your property purchase, we will need to determine which type of mortgage you may qualify for, how much money you will be able to borrow, and how much money you have available for your deposit and down payment. This information will be required when you submit an offer to purchase.

Knowing this information BEFORE your property search begins is vital and will help us to find the right property for you.

Having been in the mortgage lending business before becoming a real estate agent, I can help answer questions you may have about the mortgage process.

The Mortgage Process:

I recommend that ALL prospective buyers who will be borrowing money for their purchase speak with a mortgage lender BEFORE going out to look at property. A mortgage lender will be able to pre-qualify you for a mortgage and let you know how much you will be able to borrow.

Qualifications for a mortgage will be determined based on at least the following information. When speaking with a mortgage lender you should be prepared to have the information available:

Your income
Recent Pay Stubs, as applicable
Recent Tax Returns (the past two years)
W-2 Documents, as applicable
Bank statements, investment account information, etc)
Credit Report (the lender will run this report for you)

In today's market pre-qualification is more important than ever. It shows that you have met the specific criteria necessary to obtain a mortgage for your purchase. The mortgage lender you choose will be happy to provide you with a letter which states how much money you are qualified to borrow. This letter will be generated after you have found a property and are ready to make an offer. The letter will be submitted with your offer and will show the Seller that you are a serious Buyer.

If you would like information about local mortgage lenders in Lake Havasu City, I will be happy to assist you.

Cash Sales:

If you will be paying with cash, your offer to purchase will be considered a "cash offer". This will be reflected in your offer to purchase once you have found the property you wish to buy. If you are a cash buyer you may be asked for documentation that you have the funds available. This is to show the Seller that you are a serious and qualified Buyer.

Cash offers are generally very desirable to sellers and will usually be considered over other offers that require a mortgage. This is because cash offers are usually faster transactions (most taking only a week or two to complete) and seller's don't run the risk of having a prospective Buyer not be able to qualify to buy their home due to mortgage issues that could arise

Your Property Search:

Although these days there are plenty of resources for folks to view property on the Internet, the best way to search for your property is by having me send you property that meets your specific criteria, directly from the Lake Havasu Multiple Listing Service (MLS). Whether it's a lot, a single family home, a condominium, a manufactured home, or investment property in Lake Havasu, I will see that you receive information about property that you are specifically looking for.

When you find what you like I will then be able to take a look at the property and preview it for you. I can take additional photos of the property and the surrounding area and then let you know what I find. This will help you to narrow down your search to the best properties in Lake Havasu City that meet your criteria.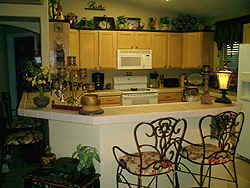 Then when you are ready to go, we will look at property you want to see. Before heading out I will map out the area and mark the homes we will visit. This will streamline the process and ensure that you see all that you want to see.
Since I have immediate to all new listings I will also keep my eye out for property that meets your criteria and can show these to you as well when we are out looking.
Finding the Right Property:
Once you decide on a property(s) that meets your needs, I will help you with your offer and present your offer to the Seller's Agent. As your local Real Estate Agent, once your offer has been accepted I will be your resource for information and will answer any questions or concerns you may have.
I will work with the Seller's Agent and escrow company on your behalf. If you are obtaining a mortgage I will work with your lender. If you request a home inspection (always recommended) I will meet the Home Inspector at the property and stay until the inspection is finished. I will be with you throughout the escrow process and until you are the new property owner.
Let me help you find, build, or sell a home in beautiful Lake Havasu City.
Call me on my cell at: (928) 486-3694




Copyright 2006-2019. All Rights Reserved.